Our products can be used in Hospitals, medical centres, aged care facilities, schools, universities, gyms, kindergartens and many other public institutions. Whenever you want to provide your students, patients, residents, clients or staff with easy access to high-quality drinking water, a self-filtering bubbler unit or water cooler is the ideal choice
Statistics prove that many people these days do not drink a sufficient amount of water per day, which is why it is vital to present people with easy access to clean, fresh, purified water. Research shows that not drinking enough water can have a detrimental effect on our mental and physical performance, which is why it is particularly crucial to install water coolers for children and students at schools/universities, and staff, patients and residents alike in the healthcare system. By doing so, ensures everyone has easy access to the highest quality fresh, filtered drinking water- which is especially vital for active growing kids and our aging population!
Many educational and healthcare facilities across Australia require a cooler with a large capacity to be available during break times, and Royal Springs can cater to those needs. We have plumbed or free-standing bottle-top units for you to chose- everything from fountains to under bench units, all of which offer fresh, clean and pure filtered water, thanks to our advanced filtration systems that guarantee the perfect filtration solution for you.
Our plumbed-in (POU) units feature a high-efficiency filtration system that can filter the input from the tap to reach optimum water quality. The difference here at Royal Springs is that we provide you with Endless Pure Water at minimal cost, with maximum results and never having to ever purchase bottled water again.
When you choose to come to us, all of our school water coolers and bubbler units are available for purchase or rent. With our rental option, we ensure that you spend less time thinking about the servicing or maintenance of your unit as we take care of that for you! We also like to make sure it is a minimal cost, saving you money on water and leaving more left over for investment in your healthcare or educational industry.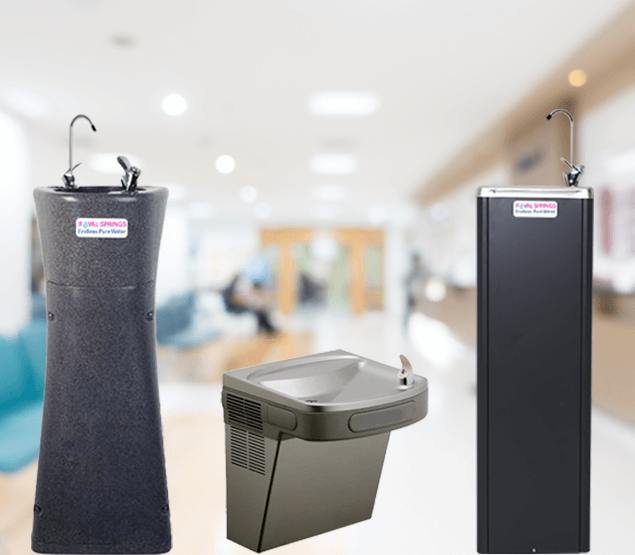 Would you like to know more about our water filtration products?